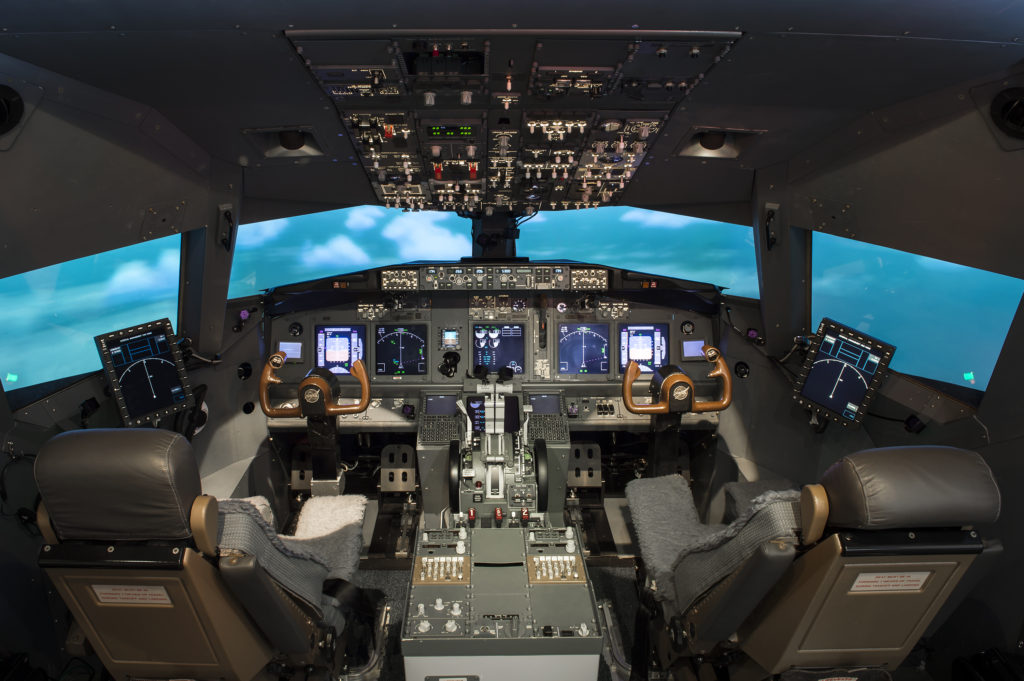 The Integration Flight Deck (IFD) is a replica of the Boeing 737-800NG Flight deck. The IFD has the following features:
Panorama Display System (200H x 40V deg FOV); 3-channel visual scene allows cross-cockpit viewing
2 Crew and 3 Observers seats
Full mission functionality; Operates fixed base or on the CMF motion base
Overhead Panel, Main Instrument Panel, Mode Control Panel
Electronic Flight Bags
Aisle Stand with 737-type with throttle quadrant controls
6 Flight Quality D-size raster CRTs
Fully customizable Heads Down Displays generated by OpenGL graphics running on Linux computers.
Pilot side Heads Up Display (HUD) – Rockwell Collins HGS-4000
Pilot and Copilot electric digital wheel/column and rudder pedals manufactured by Wittenstein
Flight quality Control Display Units (CDU) for Guidance and Navigation Flight Management
Digital sound system audio cueing provided
Capable of interfacing selected flight systems for testing (hardware-in-the-loop)
Eye tracking system
The current focus of the IFD is on the evaluation and refinement of research concepts in existing transport aircraft, control upset/unusual attitudes, etc. Recent studies in the IFD include development and support of flight tests in commercial, business, and general aviation aircraft.
IMAC Project Pictures:
LTCM Project Pictures:
 Before becoming a 737-800NG Simulator, the IFD was configured as a 757-200 Simulator. Here are pictures of that configuration: